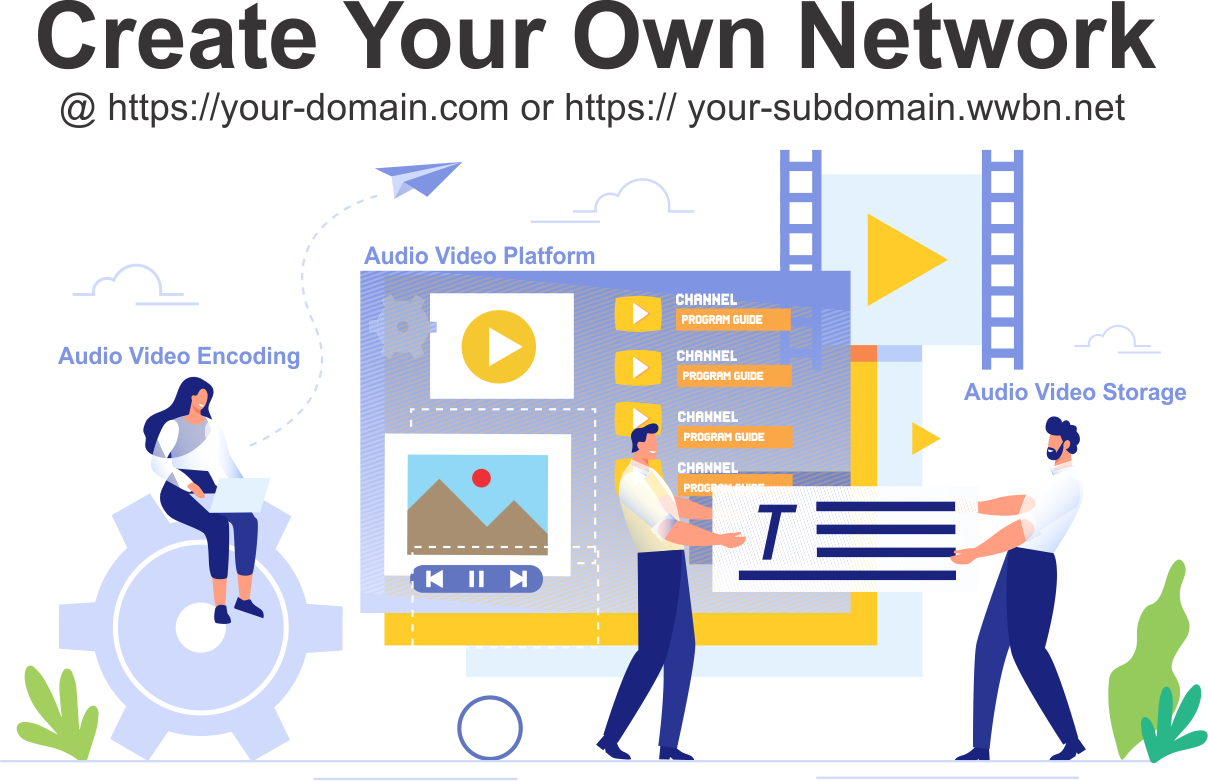 Audio Video Networks
At Platform.AVideo.com you can order a video platform and create your own broadcast network. Host channels of content, live stream, vod stream, create programs of content or series episodes.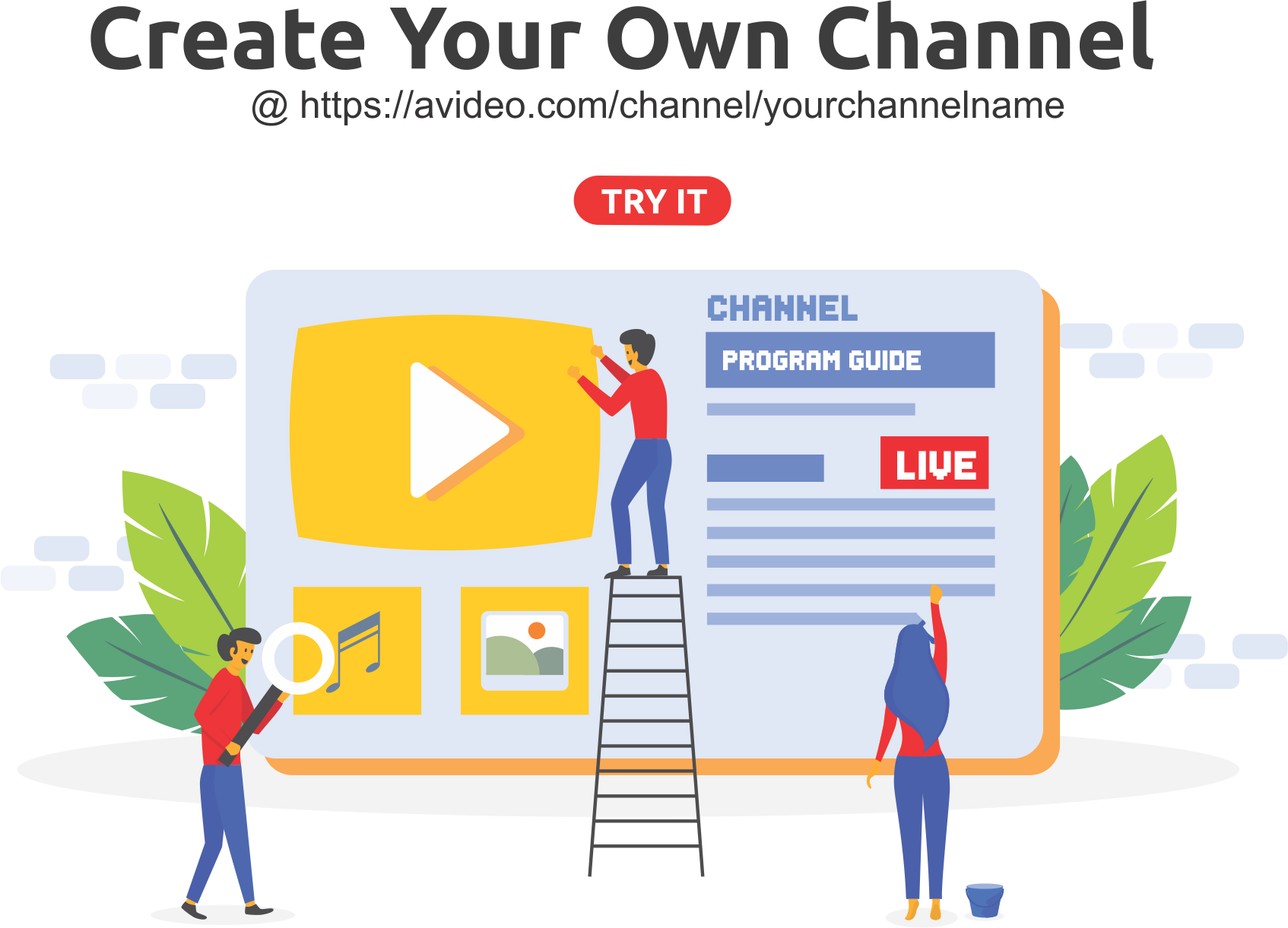 Audio Video Channels
At AVideo.com you can create a channel, live stream, vod stream, create programs of content or series episodes.
Audio Video Platform Project
As a network platform discovery system WWBN had to accellerate the use of media platforms. In 2012 we began planning our Open-Source Project in order to create a global community of developers to contribute to the audio video platform project.
The AVideo Platform Plugin Design allows you to get exactly the solution that addresses your needs today, while ensuring that your Broadcast Network implementation can grow and expand with you as your needs evolve.
Project Name: AVideo Platform
Project Website: platform.avideo.com
Project Start Date: 2007
Open-Source Start Date: 22 july 2014
AVideo is a powerful base audio video platform for managing, uploading, curating, organizing, indexing, and distributing audio and video content. The plugin design allows you to get exactly the solution that addresses your needs today, while ensuring that your Media Broadcast Network implementation can grow and expand with you as your needs evolve.
AVideo Platform Project Consists of THREE main Areas: (Management/Encoding/Storage)
Media Management Project(s): AVideo Platform
Encoding Project(s):

Storage Project(s): AVideo Storage
Management life cycle is as follows; media is managed at the platform at 1, media is then uploaded to a temporary storage to be encoded at 2, then stored for broadcast at 3, then distributed to devices at 1 to be consumed.
Some of the largest brands in the world use the AVideo Platform to manage and distribute their media assets. AVideo Platform project has over 900 developers/contributors, and over 4000+ instances of AVideo Platform installed throughout the world. Because of the remarkable flexibility of the platform, each of our customers uses our platform in a slightly different way, to address their particular needs and deliver solid targeted value to their organization.
---
Frequently Asked Questions
What is the diffrence between a channel and a network?
A channel is a channel in AVideo.com. A network is an instance of AVideo Platform running on your servers.
How can I get a channel?
Create an account in AVideo.com and you will have a channel to stream audio and/or video
What can I do with a channel?
With an AVideo channel you can create programs of content, series of episodes, stream video-on-demand or live streaming.
How do I get a network?
You can contact our Enterprise AVideo Platform professionals to help you get started or you can use our Open-Source AVideo Platform Solution.
What can I do with a network?
You can host channels on your own branded network each channel can host programs of content or series episodes, monetize with PPV, Advertising and other revenue models. And much much more.
How much does it cost?
AVideo .com Channels are free to start, Enterprise AVideo Network depends on configuration, and Open-Source AVideo Platform is free, but you must be an experienced developer, and contribute to the AVideo Platform Open-Source Project.
About the re-brand
Originally offered as YouPHPTube, a YouTube Clone, after the popular video sharing site, we decided to rebrand our open-source audio video platform project from YouPHPTube to AVideo Platform which contsitutes Audio Video Platform. In some plugins, forks, versions, modules, APIs, documentation, file names, there may be or have been reference to youphptube, youphp.tube, youtube clone, clone script, searchtube, adtube, showtube, searchmercials. WWBN owns Searchmercials, SearchTube, AdTube, ShowTube, AVideo, WWBN among other trademarks. All other trademarks and similarity to any referred to in any files, documents, wikis, plugins, code, modules, apis, integrations, technologies, links belong to their respective owners.
AVideo trademark is FREE to use
AVideo is a registered trademark owned by PeachWiz, Inc. and is freely distributable with any Enterprise or Open-Source AVideo Platform products provided by WWBN, and its permitted use is granted with GNU-GPL, CDDL open source licenses.
Word Mark: AVIDEO
Translations: "AVideo" has no meaning in any foreign language.
Description: "AVideo" constitutes Audio Video Platform.
Goods and Services: IC 009. US 021 023 026 036 038. G & S: Computer search engine software for searching online video content.
FIRST USE: 20030602
FIRST USE IN COMMERCE: 20040112
Standard Characters: Claimed
Mark Drawing Code: (4) STANDARD CHARACTER MARK
Trademark Search Facility Classification Code: LETS-1 A A single letter, multiples of a single letter or in combination with a design
Serial Number: 77450549
Registration Number: 3625659
Concept
AVideo was developed into an open source project in order to expedite and increase the number of media platforms and to create networks(platforms), channels and programs of content for video on demand as outlined on the Broadcast Network Platform System and related patents.
Project History
AVideo is an online audio and video platform (OAVP, OVP) developed by World Wide Broadcast Network the media division of PeachWiz, Inc. AVideo is provided as a Software as a Service (SaaS) online audio and video platform at AVideo.com. AVideo is for user generated content, business, and government generated content. It is designed to provide broadcast channels with programming capabilities. Users can create programs, series, stream content, and livecast to targeted audiences. AVideo is one part of the Broadcast Network Platform System patent family and enterprise platform.
AVideo Platform project began in 2002 by World Wide Broadcast Network a Palm Beach, Florida entity at the time. Aside from filing for several patents related to Online TV Platforms, WWBN CEO Alexious Fiero wrote a book "OSTV (Open Systems TV) the Next Wave of Information"[1] a book outlining the convergence of Search technology, Multimedia and The Internet into the Future in Internet TV in order to bring awareness and more actors in a spce that did not exist at the time.
In 2003, with an eye on Internet TV, it was first introduced as OS.TV (Open-System.Television) at the Search Engine Strategies trade show on December 9th 2003[2][3]. Everybody at the tradeshow received a copy of the book "OSTV the Next Wave of Information". At the tradeshow having one of the only media platforms on display we got a lot press interviews. In an elevator an editor from an tech magazine told the CEO that he was ahead of his time, and that when the time came, the company was usually not around. With no traction for online video online yet, that became the mission for this project. Basically adapting to current markets and promoting, influencing and enabling companies to put up more video platforms and channels of programs.
The project was modified in 2004[4] and called PoopTube.com (Creation Date: 2004-03-04) (Video Poops) in order to enable users to upload video mash-ups which we considered to be a safe bet because of copyright infringement reasons. And another site SearchTube.com (Creation Date: 2004-03-07) was developed to search the video. In 2006 YouTube.com (Creation Date: 2005-02-15) was launched and video poop mash ups moved to the free YouTube service and became recognized as YouTube Poop videos[5]. Thanks to the YouTube user generated video revolution video was then starting to take off. SearchTube.com continued to provide search results but now provided by YouTube at a higher volume. The domain PoopTube.com was then let go as it had no further value.
In 2007 the company in Florida was dissolved and was Incorporated in Atlanta Georgia area as Atlanta was home to CNN, Cartoon Network and Turner Broadcast among other media entities. From 2007 the AVideo Platform was focused on media companies with a focus on the newspaper industry with an eye on Internet TV since most media companies owning newspapers also had TV networks and Radio. In 2011 World Wide broadcast Network received its first patent[6] for the World Wide broadcast System and discovered that thae platform had deviated from the original concept and had to be re designed to match the patents that were coming. In 2013 the platform was taken offline and redesigned as the business models were not condusive to our view of the future of television, and we were in the process of being awarded one patent after the other in relation to the Broadcast Network Platform System for Internet TV[7]
In 2017 we launched a cladestine open-source project as a YouPHPTube (YouTube Clone) in order to leverage YouTube's popularity and expand the number of media platform that we can include into the SearchTube.com OVP Search platform. With the help of the WWBN open source community consisting of over 900 developers the platform has taken it's original form and as of January 2020 there are 4500+ instances of AVideo running world wide, and over 800,000 videos posted. In January of 2020 the platform was re-branded back to AVideo and was re-launched as a SaaS product at AVideo.com, as an enterprise software at Platform.AVideo.com. It is worth noting that WWBN owns AVideo, SearchTube, ShowTube, and AdTube trademarks among others, and most were registred before YouTube registered.
All trademarks mentioned or referred to on this website belong to their respective owners.
Citations